If you're a movie lover, I'm damn sure that you know about the South Indian movies. And in this article, I'm going to share how to download hindi dubbed south Indian movies. The reason of sharing this is most of the time we don't being able to find the way to see where we can download and watch hindi dubbed movies.
This article is for educational purpose only. I'm not responsible for any kinds of copyright violations. If you can afford, please try to watch the movies in Cinema hall.
In this guide, we'll be using only two websites. We'll be using one for finding new movies and another is for playing and downloading that files or movies videos. Those two websites are mentioned below –
Kickasstorrents
Seedr
Let's explore the torrent and player website shown above
Let's go ahead and know more about the both website we will be using for enjoying the new movies.
Kickasstorrents
Kickasstorrents is one of the most popular torrent website that used to find the latest movies, files, documents, musics, podcasts and many things more. Actually almost everything leaked can be found in this website.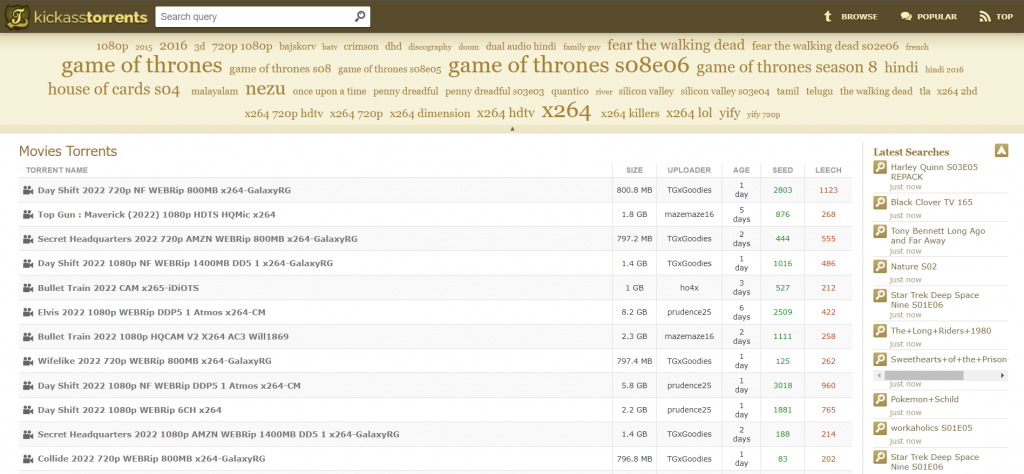 Seedr
Seedr is one kind of streaming and downloading website. You can download files from any kinds of torrent website simply by grabbing and pasting the magnetic or torrent download link.
You're required to have an account to use the feature of this website. You can simply create an account using your email address. Or you can also connect your Google account to log in to the website. Using a free account, you might be able to use a limited amount of storage. So, try to upgrade or make free referral.
How to watch and download latest hindi dubbed south indian movies
Now let's take a look at the step by step tutorial of how to watch and download latest south indian hindi dubbed movies easily and fast.
1. Go to Kickasstorrents website and you will see a Search box in the top left of the website.
2. In the search box, type the movie name +"hindi dubbed". For example, if you want to download the hindi dubbed movie of the south indian movie K.G.F 2, you can type "K.G.F 2 hindi dubbed" and then hit enter of the search icon shown on the right side of the search box.

3. This will show a lot of results in front of you where you have to find out the hindi dubbed version. For example – you can see the screenshot below.

4. Now click on that file name to open that. Once open, right-click on the magnetic button and click on the copy link address.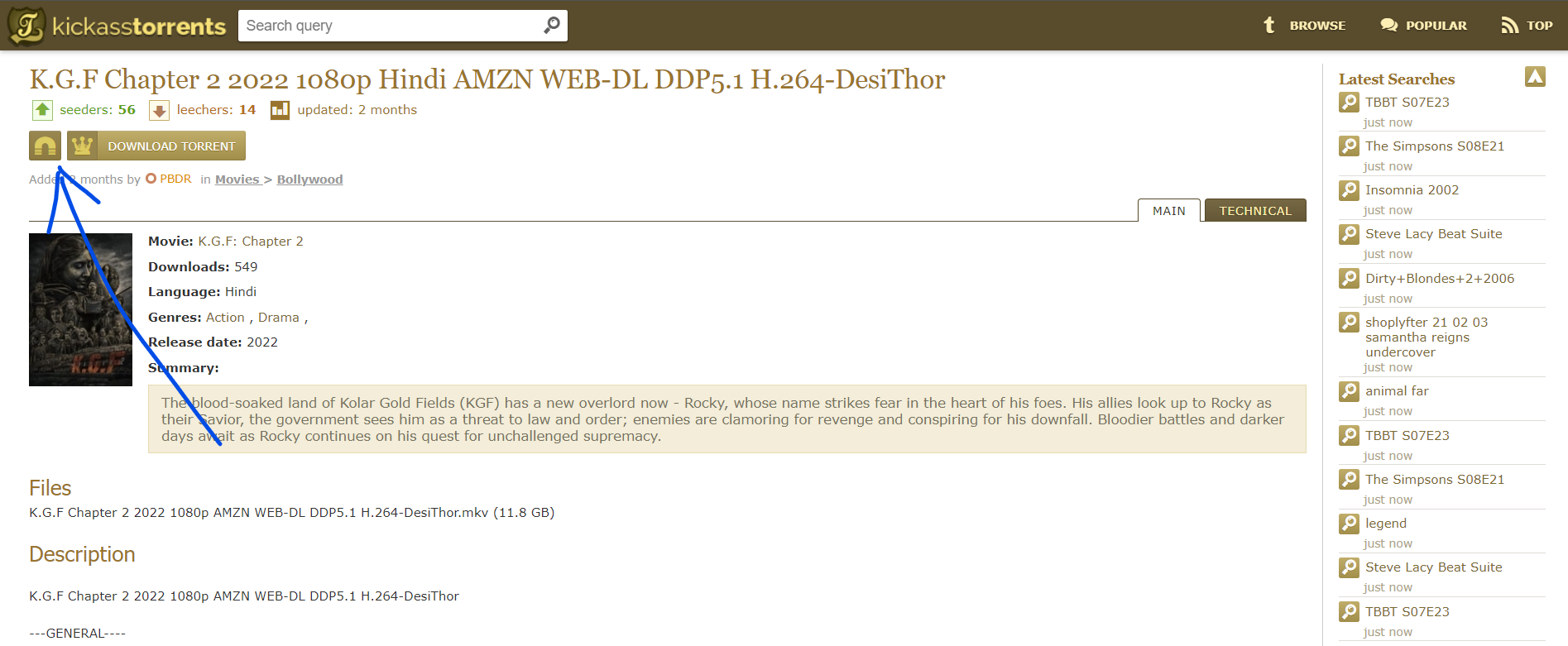 5. Now go to Seedr and create an account on that website (if you don't have). Once done, login to your account. and you will be able to see an interface like this.
6. Paste the magnetic link (which you've copied in the last step) in the top search area where it shows "Paste link URL Here". And then hit enter or click on the plus icon showing on the right side of the box. And It will start collecting the seeds to download the file in the server.

This download process will not take that much. It might take less than a minute. Sometimes it can take 1-2 minutes if there are fewer seeds available.
7. Once the file is downloaded in the server, the video file and the folder will be shown in your account like this.

8. Now simply double-click on the folder name to open, and from there you can play and watch the south indian hindi dubbed video without downloading.
9. If you want to download the video file, you just need to click on the download option shown like this below.
The Seedr server is very fast, so you can easily download the latest south indian hindi dubbed movies with superfast speed. As the speed is very fast, you can also enjoy the stream online without downloading.
Secret Tips
In the new Seedr account, you will get only 500 MB-1000 MB space which is not good enough for HD videos. So, you can simply refer up to 4 person using your referral link. You can easily refer your friends and family.
Conclusion
So, that's it. That is how you can easily watch and download a south indian hindi dubbed movies. If you still find any confusion, please make sure to let me know in the live chat box or the comment section below. I will be happy to get back to you as soon as possible.